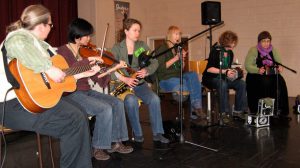 Have you been wanting to teach fiddle tunes?
Don't know what to do other than teach the notes?
Want to play, but don't know how to sound authentic?
Join my class and I will teach you how to teach and play in the Celtic style!
REGISTRATIONS FOR SUMMER NOW OPEN!
Have fun this summer playing tunes!
In this intensive two-week course, you will get hands-on experience in Celtic music by learning to play medleys from two different styles, Irish, and Cape Breton. You'll also learn how to avoid sounding like a classical musician!
As we explore jigs, reels and slow airs, you will learn the use of bowings, ornamentation and variation from each region, as well as how to put a medley together.  You will also learn about the practice of Celtic music, the history, the culture, and how to join and lead a session, etc.
Learn to teach….
And, of course, while we are having so much fun, I will show you the endless list of skills students can learn while you are teaching them to play fiddle tunes authentically.  Fiddle tunes lend themselves more easily to teaching certain musical skills that you normally wouldn't get around to when teaching ensemble music.  In fact, you will be surprised at how much there is to teach with just 16 bars of music!
Fiddle tunes are also great to have as a resource for online learning and I will show you how I finished my fiddle unit with my beginners online!
Why learn from me?
Finally, learn from my unique perspective of having lived almost 10 years in the Canadian Maritimes living and breathing the music every day, of having gone through the challenges of trying to adopt a new style of music coming from a classical background, and from the perspective of being a string teacher, just like you!
Check out the course content below to see how much you are going to learn!
Certificate of Completion and a Professional Development Certificate for 12 instructional hours (for U.S. teachers) will be provided upon successful completion.
Class sizes are limited in order to ensure individual attention.
Please feel free to contact me if you have any questions.
SAVE $70 if you register by April 30th! Use promo code: SUPEREARLY
SAVE $50 if you register by May 15th.  Use promo code: EARLYBIRD
(Enter the promo code at the top of the page after you choose the date.)
JULY SESSION:
8 Classes:  July 5, 6, 7, 8, 12, 13, 14, 15 – 1:00PM to 2:30PM
Hours: 12 hrs instructional time, 10-20 hrs course work (1-2 hours practice daily)
Tuition:  $395 CAD ($315 USD)
Class size:  maximum 8 participants
Requirements:  stable internet connection with ability to use audio and video through Zoom
Space is limited.  Register now!
Course Content:
Why Teach Fiddle Tunes
The practical reasons
The creative reasons
The social reasons
The Practice of Celtic Fiddle Music
Aural tradition
Culture around Celtic music
Being authentic to the practice
The Music
Irish & Cape Breton styles
Jigs, Reels, Slow Airs, Marches, Strathspeys
Bowings, articulations, ornamentation, double-stopping
Playing variations on the melody
How not to sound like a classical musician!
Teaching Fiddle Tunes

Fiddle tunes and theory
Fiddle tunes and articulation
Fiddle tunes and musical expression
Suggestions for teaching fiddle music online
The Aural Tradition

How to teach students to practice and memorize tunes easily and effectively
How to recreate the aural tradition in the classroom
How to recreate the social experience in the classroom