Free Masterclass!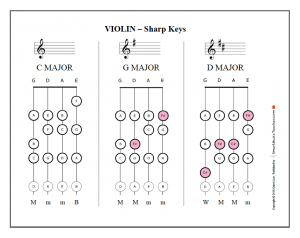 Navigating the fingerboard doesn't have to be complicated or intimidating.
Teaching by finger pattern helps students play in any key and any position – all on their own!

Tuesday June 23rd, 3:00pm to 4:00pm EDT (Toronto) or
Thursday June 25th, 1:00pm to 2:00pm EDT (Toronto)
(Check regularly for new dates.)
Space is limited.  Register now!
P.D. certificate will be provided upon completion.
Teaching strings can be made easy, and one way to do it is to teach by finger pattern.  Join me and I will show you my very simple finger patterns for the heterogeneous string classroom.
We will start with the six easy finger patterns that every string student should know.  I will then show you how these patterns will help you teach everything from playing in any key signature to playing in any position. Next I will show you how these patterns can help you easily and clearly communicate many aspects of fingering to your students as you are teaching.  Finally, I will show you how your students can easily learn to play scales using my very simple scale method.
For the best experience, come equipped with a secondary instrument to try my finger patterns out on.
*Please note that this is a hands-on class and class size is limited. If you have to cancel, please let me know!
See testimonials from the full course.
Masterclass Content:
6 easy finger patterns every string student should know
How finger patterns make scales easy
How finger patterns make positions easy
How to help students visualize the notes on their fingerboard
How to easily communicate fingerings to students
Using finger patterns to introduce tonality
Using finger patterns to promote student independence
And more!