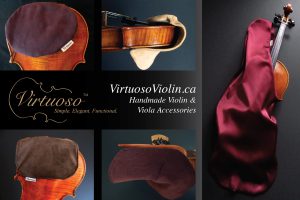 Visit my shop, VirtuosoViolin.ca for hard-to-find handmade accessories for the violin and the viola, including accessories for Baroque players.  All designs are my own original designs, and are made with elegance and practicality in mind.
Current products include:
Shoulder pads for restless players.
Shammys that stay on your instrument.
Shammys designed for those with nickel allergies.
Accessories that are Baroque instrument friendly.
Unique drawstring-free violin bags.