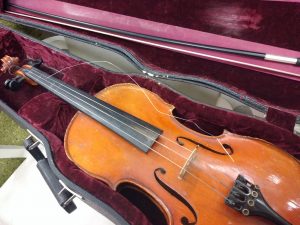 Not sure how to maintain your instruments?
Want to be able to do some repairs yourself?
Afraid you might break something?
Take this 3-hour hands-on workshop and learn everything you need to know to keep your instruments in good working order.
REGISTRATION IS NOW CLOSED.

Through this valuable 3-hour course you will save time and money by learning the essentials of maintaining your instruments. You will also learn which repairs you can do yourself and which should be left to professionals. Finally, this will be a hands-on class, so we will be practicing everything as I am teaching you. Be sure to bring a violin that you are comfortable with taking apart and learning how to put back together!
Check out the course content below to see how much you will learn!
Class size is limited in order to ensure individual attention.
Certificate of Completion and a Professional Development Certificate for 3 instructional hours will be provided upon successful completion.
Summary notes, including checklists and list of tools and supplies to keep on hand.
Please purchase a chinrest tool if you don't already have one.
Please bring a violin and a towel to lay your instrument on.
Grace combines her unique experience as a string teacher with her experience of having watched and helped her partner build and repair instruments in their home. She brings to you a completely practical hands-on course that will prepare you for all of the most common string maintenance and repair problems you will encounter in the classroom.
SESSIONS:
Hours: 3 hrs instructional time
Fee: T.B.A.

Requirements: stable internet connection with ability to use audio and video through Zoom
Upcoming Dates:
Check back soon!
Testimonials:
This is a wonderful workshop! It teaches everything from the basics including how to replace strings, Tighten loosen chin rest, bow hair, taking apart instrument, quick fixes on sound and instrumental care. Grace does a wonderful job at explaining everything with detail and at a great pace! Grace is devoted to answering everyone's question. Grace is such a great teacher! Please take this course if you want to learn more about repairing your student's instruments!

– Jackie D, Hartford, CT, 6th-12th Orchestra Teacher
I am a band director teaching strings. When students come to me with instrument issues, they are counting on me to have solutions. Prior to the workshop, I was ill equipped to deal with the myriad of problems that middle school students face. To a certain extent, I am more confident now to troubleshoot and solve problems concerning stringed instruments. It was exciting (and simultaneously apprehensive) to disassemble my violin. I haven't even done that with my clarinet or saxophone.

– John Presto, Band Director
Grace Law's repair workshop was a great way for me to obtain the confidence and skills needed to safely perform routine maintenance and repairs on string instruments. The knowledge I gained as a result of this course will save me time and my music program money when it comes to trips to the repair shop. I will in turn, be able to pass down this information to my students who will be able to become more confident with maintaining their own instruments.

– Elicia Masztal, High School Music Director, Sacramento, CA
Grace's maintenance and repair workshop should be a required course for all music education majors! As a wind player, I didn't learn string repair in college, and as a teacher I've been a bit intimidated to dive into repairs without the necessary skills and background. I've always been afraid of breaking the instrument. After taking the workshop I feel much more confident and comfortable addressing repair issues that might come up.

– Maureen Isbister, Band Teacher – NY
Because of Grace Law's breadth of knowledge along with her expertise in planning and instruction, I feel very well prepared to perform many small repairs and adjustments on string instruments. From changing strings and correcting chronic tuning peg problems, to bridge and tailpiece adjustments, I will be able to quickly address most of the typical instrument problems that often occur during rehearsals and lessons. This course is worth its weight in gold for any string educator!

– Gregory Tarbox, Orchestra & Strings Specialist – Pembroke, MA
This workshop should be a mandatory course or unit of study for music teacher training. It was a practical workshop where we took apart the instrument and the bow and reassembled them afterward. Through the hands-on process, I gained a deeper insight into the components of the instrument that contribute to its sound quality.

Being able to restring the instrument and check different parts to assess the playability or need for professional repair of the instrument is crucial for music teachers, yet rarely discussed. Being a music teacher is more than teaching students how to play a certain instrument. What goes on behind the scenes of teaching such as being able to do small repairs on instruments contributes to the livelihood of a music program.

– Lindsey Wen, High School Teacher – Greater Toronto Area, Canada
I was amazed at how much I could learn about violin maintenance in such a short time. This hands-on workshop gave me the confidence as a non-string player to understand basic care of the instruments, and know when I should consult a professional. Thanks so much for the fun and useful workshop!

– Heather Holmes, High school band – Toronto, Canada
I wish I had this class before I started teaching strings! I feel confident in making more repairs myself, which will help my budget stretch farther. I also learned which repairs should be left to the professionals so I don't end up doing more damage to an instrument.

– Katie Virden, Orchestra Teacher – Joplin, MO
I have taught strings for 5 years now, and have learned a lot over the years. If you are a string teacher just starting out – PLEASE take this course! Everything I learned from the past 5 years plus MUCH more was gone over in this workshop. It is organized in a simple manner, easy to follow, and it is a hands-on workshop where you will actually practice and see the things that Grace is talking about.

– Laura Gardner, Orchestra Teacher – Columbus, OH
As someone who is a music teaching veteran but who is new to teaching strings, the skills and knowledge I learned from Grace in one very quick morning are invaluable to me both in a practical sense, and in boosting my confidence about taking on this new role. Grace is knowledgeable, personable, warm and efficient. I can't wait to sign up for my next experience with Grace!

– Rebecca Watters, Strings Instructor – Nashville, TN
Course Content:
How instruments and bows are constructed
How to maintain your instruments
Diagnosing and fixing common problems from pegs to endpins and in between!
What various repairs should look like when done properly
Easy vs. expensive repairs
How to decide if a repair is worth doing
Repairs you can do yourself
Repairs you should avoid doing yourself
Tools and equipment you should keep handy
How to take apart a violin and put it back together!
And more….
btn text="REGISTER NOW" borderradius="3px" link="https://smartstringteacher.com/repair-registration-form" tcolor="#ffffff" bcolor="#820000″ thovercolor="#eaeaea" bhovercolor="#590000″ target="false"