Want a taste of SST before you commit to a course?
Just want to learn more about an interesting topic?
Participate in as many masterclasses as you like, no strings attached!
Check regularly for new classes, dates and times!
All masterclasses are hands-on classes.
Please come prepared to participate and have fun!
Secondary Instrument Clinics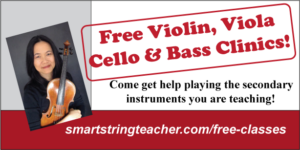 Sunday June 26, 7:00pm ET
Are you struggling with playing a secondary instrument? Are there aspects of string technique that challenge you? Perhaps you are a non-strings major teaching strings?
Bring your instrument, be ready to play something, and I will do some hands-on troubleshooting, as well as answer all your questions!
Intonation for Strings Made Easy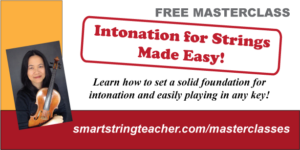 Saturday June 25, 7:00pm ET
Do you have trouble getting your students to play in tune? Do they struggle with remembering where to put their fingers? Are you limited in repertoire because they can't successfully play in different keys?
Intonation, especially in the beginning, can be a challenge on string instruments.
Let me show you how to set a solid foundation for intonation. You'll have your students playing in tune in any key quickly and easily!
Bring an instrument and join us!
Free May Masterclasses!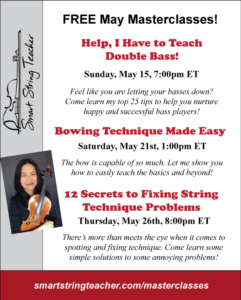 Help! I Have to Teach Double Bass!
Sunday, May 15, 7:00pm ET

Bowing Technique Made Easy
Saturday, May 21, 2022, 1:00pm ET
12 Secrets to Fixing String Technique Problems
Thursday, May 26, 8:00pm ET
Beginner String Technique Made Easy!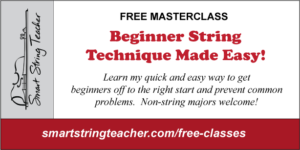 Saturday April 23rd, 2022 at 1:00pm ET

Do you feel like you spend too much time fixing too many hands?
Does it take you weeks or months to get your beginners started on their instruments?
Do you not have a reliable method for introducing bow hold and left hand that works quickly, consistently and successfully?
Well, it doesn't have to be that way!
Come learn my quick and easy way to get beginners off to the right start and prevent common problems.
You don't need an instrument. You don't need to know how to play. All you need to do is bring a nice long pencil :).
12 Easy Solutions to the Most Common String-Playing Problems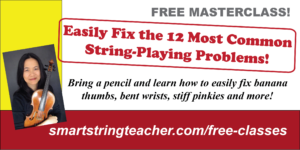 Sunday, April 3rd, 7:00pm ET
Are you trying to solve technique problems with games and methods that don't work?  If you aren't having much success, chances are you aren't addressing the real problem.
Bring your pencil and come learn the solutions that every string teacher should know!
Scales for Strings Made Easy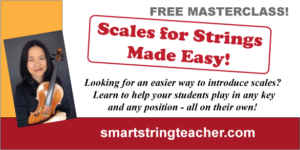 Thursday, March 10th, 8:00pm ET

Unsure about how to teach scales? Want to start teaching scales sooner?
Sometimes we avoid teaching scales because all the essential little skills involved can make it seem overwhelming, especially when teaching to a heterogeneous string classroom.
In this masterclass I'll show you how to easily help your students play in any key and any position all on their own!
Demystifying Bowing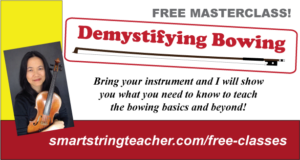 There are so many things the bow can do, which means that there are so many different aspects of bowing to teach and be aware of.
For example, where in the bow should I play? How much bow should I use? How much pressure? How fast or slow? Up-bow or down-bow?
If you aren't a string player, it can be overwhelming. If you are a string player, it can still be overwhelming.
Bring your instrument and I will show you everything that you need to know to teach string students the bowing basics and beyond!
Celtic Fiddle Masterclass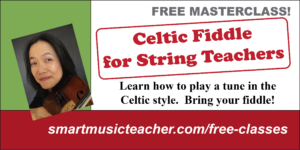 Have you always wanted to play Celtic fiddle?  Maybe you have even wanted to teach fiddle music to your class?
Come and I will show you how to ornament a beautiful slow air.  I'll also show you how to not sound like a classical musician!
Join me and start your lifelong addiction to Celtic music!