When I started to teach by finger pattern, one of the first activities I had my students do was to draw the fingering charts for each of the keys they were learning.  This is a great way to give students a different way to reinforce visualization of the fingerboard, something that they can benefit from getting lots of practice in.  It also gives students regular practice identifying and naming the notes on each string.
Four different versions
I find it helpful to have four versions of the fingering charts.  There is the short version for 1st position to 3rd position notes, and the long version that goes up to one octave on each string.  There are also teacher versions with 5 strings, so the teacher can display the fingerings for all the instruments at the same time.  Basses are instructed to draw their strings backwards from the teacher.
The many useful ways to use blank fingering charts

Blank fingering charts come in handy for many things, including:
practicing fingerings
practicing note naming
identifying and labeling the finger patterns below each string
comparing finger patterns to see how they change when adding flats or sharps
using them as tests
chopping them up to use as quizzes
using them to practice placing accidentals
having students discover fingerings for keys they don't know
working out passages in higher positions
Help students to see a logical sequence to memorizing each key
A good strategy for using the blank fingering charts is to first have the students draw and memorize the key of C Major.  This becomes the starting point for figuring out the fingering for any key, and for understanding accidentals.
From C Major, you can help the students to see how the finger patterns shift as you add sharps or flats.  This way they will see that there is a logical sequence and that each key is not random, making it easier to memorize them.  Once they understand this sequence, you can get them to predict what the finger patterns and notes are in the next key.
In other words, after C Major, I have the students draw G Major, then D Major, and we compare the patterns.  They see that as you add sharps, the patterns shift one to the right.  Then I have them predict what the fingering is for A Major.  If you demonstrate C Major, F Major and Bb Major, they will see that the patterns shift one to the left, and can predict the fingering for Eb Major.  (This is the opposite for double bass.)
Finger Patterns & Abbreviations
Here are some useful abbreviations for the patterns that you might want to use to label each string.  You can download this chart along with free finger pattern handouts here.

New Pieces and Accidentals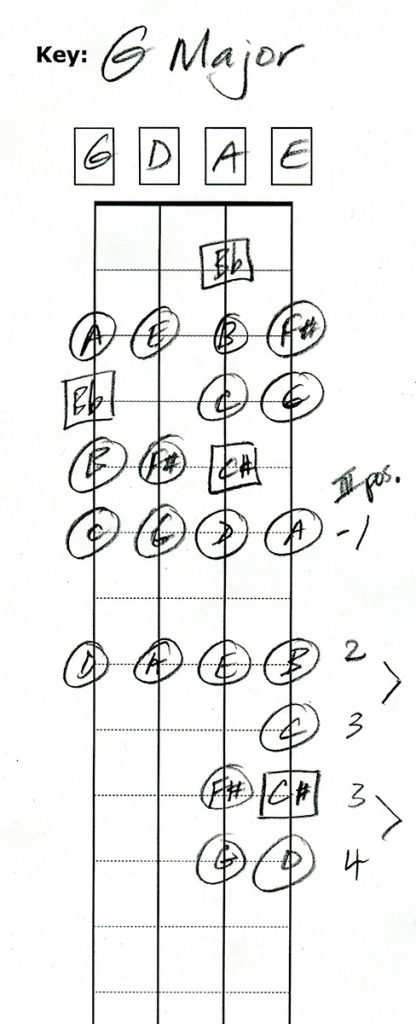 Before starting a new piece, having students draw the fingering chart for the key is a concrete way to remind students to pay attention to the key signature and to reinforce the importance of using the correct finger patterns.
Drawing the fingerboard before playing the piece also provides an opportunity for students to find any accidentals in the piece and to identify their placement on the fingerboard before they play.  It can also be used as an opportunity to work out passages that need to be played in higher positions, and what patterns are needed for those positions.  As a teacher, this can be a great help when teaching instruments you are less familiar with.
Ready to have your students practice drawing the fingerboard?
Download my free blank fingering charts now and share in the comments below other ways you come up with to use them!
DOWNLOAD NOW:
Free Blank Fingering Charts - PDF