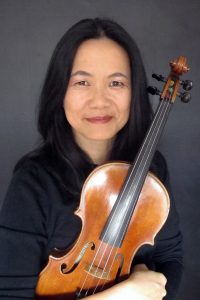 It is time for a new string pedagogy.  There's a lot to learn from the great violin pedagogues.  But applying violin pedagogy to a heterogeneous string classroom isn't enough.  As well, many teachers find themselves suddenly teaching strings without any pedagogical training or background in playing the instruments. That's why I felt the need to design a new pedagogy from the ground up – one that not only addresses the challenges of the modern string classroom, but provides a resource for training teachers from scratch.
Getting to the core of string technique.
This new pedagogy is based on simplifying every aspect of string technique so that understanding and success is almost immediate.  It is the result of many years of getting up in front of a classroom and asking myself every single day, how can I make this easier?  It is also the result of testing, rejecting and refining approaches and language until the 'aha' moment happens and almost everyone in the class is instantly successful.  If it doesn't happen that fast, it doesn't make it into my pedagogy.
In fact, I do so much testing and tweaking, many of the techniques I have shared in this blog are outdated because I have found even better ways to teach them.  It's gotten to the point where I have too many ideas to execute and not enough time to write about them, which is why I have started teaching my methods instead.
A pedagogy for the heterogeneous string classroom.
In a heterogeneous classroom teaching strategies need to be simple, fast and effective.  They need to be simple and fast, otherwise you risk losing the students' motivation and interest.  And they need to be immediately effective so your students don't get discouraged – and so you don't get discouraged!
You also need strategies that, as much as possible, focus on the commonalities of the violin, viola, cello and bass can so they can easily be taught together, thus saving time.  This is so important when so many of us have very limited time to spend with our students.
Focusing my method on these requirements has resulted in strategies that make teaching string technique so simple and fast, one can easily teach far beyond the skills that most method books cover in the first year.
Prioritizing independence.
The need to be able to teach easily and effectively in a heterogeneous classroom also gives rise to another criterion on which I base my pedagogy: how do I present skills in a way that will allow students to understand the fundamentals of what they are doing so they can be independent of me?  What basic knowledge do they need to know so they can figure out the next steps for themselves?  How do I create an independent learner so that I can be more effective in a classroom of mixed instrumentation and ability?
Prioritizing independence means students will be able to achieve more in a shorter amount of time, and also allows teachers more ease in their ability to differentiate the classroom.
My methodology is always guided by the above questions, which have led me to create, and continue to create, the accompanying teaching materials you see on my website.
Effective string teacher training.
It is unfortunate that undergraduate programs do not give enough time for the study of teaching strings to our aspiring young teachers, especially to non-string majors.  As a result, we need a way to train them consistently and effectively for success after the fact.
Effective string teacher training to me requires three key components:
a step-by-step method that will help new teachers teach with confidence from day one;
an emphasis on learning to troubleshoot and easily fix the most common string-playing problems they will encounter; and
the ability to ensure participants receive enough hands-on practical knowledge on every instrument.
That is why my training heavily emphasizes teachers learning to play, and learning to troubleshoot.  By experiencing my entire process as beginners on secondary instruments, participants greatly increase their effectiveness as teachers in a very short amount of time.  It gives teachers a complete experience that takes the guesswork out of teaching strings.
Believing that string-playing is easy.
There is a common belief that teaching strings is complex, and that it can take years to be competent at it.  Even longer if you are not a string-player.  However, if a teacher is properly trained, this really is not the case.
Everything I have developed in my methodology is based on the belief that string playing is easy – if we teach what I have discovered to be key concepts. In fact, it is so easy that in 4 weeks, I am able to teach participants what they need to know to confidently teach an entire year of beginning strings and beyond. It is also so intuitive that even non-string players are able to confidently learn to play and teach in that time.
During and right after my program teachers are able to:
immediately apply what they have learned and see instant improvement in their students' technique;
successfully teach beginners what they used to consider advanced skills;
execute these skills themselves, and perform repertoire up to the end of Suzuki Book 1 and beyond.
Easy to use, adapt and collaborate.
String teachers come from all different backgrounds and teaching styles, and the pedagogy I developed can easily fit into anyone's style or existing program.  I want to provide teachers with tools they can use to teach from a common foundation of fundamentals.  This creates continuity for students as they move from grade to grade, as successive teachers can easily build upon where the teachers before them left off.
Having everyone teaching from the same page means students will achieve more from year to year, and string programs will grow to be more successful.  This is an outcome that I envision for programs everywhere.
Continued Professional Development
Finally, it is important for our professional development to study as many of the great pedagogues as possible and learn from their expertise. There is no one pedagogy that can do it all – not even mine.  The more we study, the better we become as teachers.  My new ideas provide not only a solid and common foundation for all classroom string teachers, but they are also a perfect complement to and will greatly enhance what is learned from studying other methodologies.  It is my intention that my training will be an essential part of every well-rounded string teacher's professional development.
Here's to the success of string teachers and students everywhere!
Grace Law
(Updated Aug. 5, 2021)