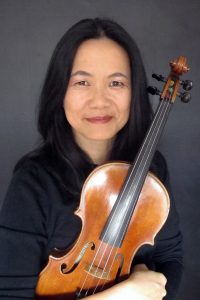 It is time for a new string pedagogy.  We have learned a lot from the great violin pedagogues like Shinichi Suzuki, Paul Rolland, Mimi Zweig and George Bornoff.  But in addition to their groundbreaking ideas, I have found that the teaching of many techniques can be made even simpler.  So simple in fact, that success can be almost instant.
Getting to the core of string technique.
This new pedagogy is based on finding the simple core of every string technique so that understanding and success is almost immediate.  It is the result of many years of getting up in front of a classroom and asking myself every single day, how can I make this easier?  It is also the result of testing, rejecting and refining approaches until the 'aha' moment happens and almost everyone in the class is instantly successful.  If it doesn't happen that fast, it doesn't make it into my pedagogy.
In fact, I do so much testing and tweaking, many of the techniques I have shared in this blog are outdated because I have found even better ways to teach them.  It's gotten to the point where I have too many ideas to execute and not enough time to write about them, which is why I have started teaching my methods instead.
A pedagogy for the heterogeneous classroom.
We also need a new pedagogy that is based on teaching the heterogeneous classroom, not just adapting violin pedagogy to accommodate the other instruments.  What I have found is that there is a common core to most string concepts for violin, viola, cello and bass, and they can be easily adapted to be taught together.  In a heterogeneous classroom, you need strategies that are quick and successful, otherwise you risk losing the students' motivation and interest.  By being focussed on making string technique simple enough to easily teach in a group setting, I have created a methodology that is extremely effective for both group and private teaching.
Prioritizing independence.
The need to be able to teach easily and effectively in a heterogeneous classroom also gave rise to another criterion on which I base my pedagogy: how do I present this in a way that will allow students to understand the fundamentals of what they are doing so they can be independent of me?  What basic knowledge do they need to know so they can figure out the next steps for themselves?  How do I create an independent learner so that I can be more effective in a classroom of mixed instrumentation and ability?  My methodology is always guided by these questions, which have also led me to create, and continue to create, the teaching materials you see on my website.
Effective teacher training.
We need a new pedagogy that lays out a clear and simple step-by-step methodology for teachers that sets them up to be successful with their students right away, and we need a way to train them consistently and effectively for that success. That methodology also needs to be simple enough to implement for the many non-string playing teachers who find themselves teaching strings.
Effective teacher training to me requires three key components:
straightforward methods that will help new teachers teach with confidence from day one;
an emphasis on learning to troubleshoot and easily fix the most common string-playing problems they will encounter; and
the ability to ensure participants receive enough competent practical knowledge on every instrument.
That is why my courses heavily emphasize learning to play, and learning to troubleshoot.  By experiencing my methodology as a participant, and experiencing and remembering the challenges of being a beginner, participants greatly increase their effectiveness as teachers, and it is an essential part of the training.
Believing that string-playing is easy.
Ease, simplicity and independence are the over-riding criteria in my methodology because it is based on the belief that string playing is easy – if we teach what I have discovered to be key concepts. In fact, it is so easy that within a month I am able to teach participants what they need to know to confidently teach an entire year of beginning strings. It is also so intuitive that even non-string players are able to confidently play a new instrument in that time.
During and right after my program teachers are able to:
immediately apply what they have learned and see instant improvement in their students' technique;
successfully teach beginners what they used to consider advanced skills;
demonstrate with competence these skills in repertoire up to the end of Suzuki Book 1.
Some participants even have the beginnings of a successful vibrato!
Easy to use, adapt and collaborate.
We need a pedagogy that is easy to use and adapt so that string teachers can all teach from a common foundation.  String teachers come from all different backgrounds and teaching styles, and the pedagogy I developed can easily fit into anyone's style or existing program.  This makes it possible to create continuity for students as they move from grade to grade.  Successive teachers can then continue with technique from where the teachers before them left off. Having everyone able to teach from the same page means that students achieve more and string programs can grow to be more successful than ever.
Continued Professional Development
Finally, it is important for our professional development to study as many of the great pedagogues as possible and learn from their expertise. There is no one pedagogy that can do it all – the more we study, the better we become as teachers.  My new ideas provide not only a solid and common foundation for string teachers, but they are also a perfect complement to and will greatly enhance what is learned from studying other methodologies.  It is my hope that my training will be an essential part of every well-rounded string teacher's professional development.
Here's to the success of string teachers and students everywhere!
Grace Law