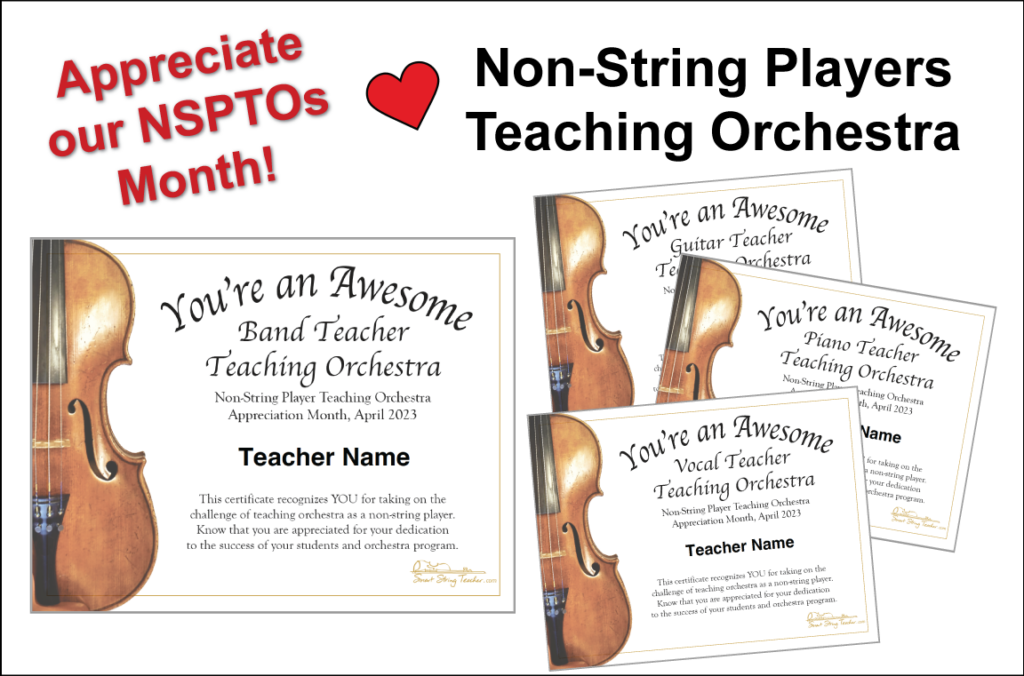 Non-String Player Teaching Orchestra Appreciation Month!
I would like to do something special today. I would like to declare April 2023 as the very first SST Non-String Players Teaching Orchestra Appreciation Month!
Let's celebrate our BTTOs (Band Teachers Teaching Orchestra), VTTOs (Vocal Teachers Teaching Orchestra, PTTOs (Piano Teachers Teaching Orchestra), and other NSPTOs.
Each week for the month of April I will be interviewing a NSPTO on the blog. I also have a special draw for everyone below!
Sometimes overlooked….
Sometimes we overlook the hard work that our NSPTOs do. I know, because I meet so many of you through my masterclasses and my training. You are dedicated, hard-working teachers with the added stress of learning to teach instruments that are foreign to you. And you are so committed to not letting your students down.
I started doing what I do in big part because of you.
And I know sometimes you feel unappreciated, and even looked down upon by others. So, I wanted to create this event to make sure we remember to recognize our NSPTOs every year!
Your role is valuable….
I want you to know how much I appreciate the role NSPTOs play in our orchestra teacher community. It's not an easy job, and if you are one of them, I want you to know we would not be able to reach and instill the love of orchestra in as many students as we do without you. Thank you.
And so many NSPTOS, once they start teaching orchestra, find themselves loving it so much they become string teacher converts for the rest of their careers!
Recognize yourself or a NSPTO in your life!
Let's recognize the challenges and effort involved in taking on teaching stringed instruments as non-players. It can be downright intimidating and scary but these dedicated teachers jump bravely into the task for the sake of their students. Let's make sure they know we appreciate what it takes for them to do what they do.
Share this with your fellow NSPTOs now. Who knows? It might change their orchestra teaching lives. I'm sure they will be immensely grateful to you for doing so!
Subscribe now to enter the draw!*
Current subscribers may use this form to enter as well.

*Draw closes April 30th, 2023 at 11:59am PT. Winner will be announced in early May. Winner must respond to their email within 48hrs to accept the prize. After 48hrs, the prize will be forfeited and another winner will be drawn. See contest rules here.