Acadian* Music for your Students
Do you want to incorporate some French Canadian and East Coast fiddle music into your private lessons or classroom?  Last week my daughter and I attended an awesome performance by our favourite Acadian group, Vishtèn.  We may be a little biased though, because they are also personal friends from our days back on Prince Edward Island, but I am sure you will agree that their music is fantastic!
Vishtèn consists of sisters, Emmanuelle and Pastelle LeBlanc from the Acadian region of Prince Edward Island, and Pascal Miousse, from Îles-de-la-Madeleine, which are islands off the coast of PEI that are part of Québec. The group has toured internationally since 2003.  The talented group play a mean fiddle, guitar, piano, accordion, tin whistle, bodhran, and mouth harp, and perform Acadian songs.  Their music is a unique blend of French Canadian and Celtic music with a modern flare that is fiery and energetic.  Oh, and did I mention that they accompany themselves with that awesome French Canadian foot tapping (a topic for another great post)!
Here is a video of Vishtèn rockin' away on some new tunes, Rollin' to Cape Breton, and Pu Yienk Su les Pu Yienk (by Bertrand Deraspe) :
East Coast Kitchen Music
Both families grew up in very musical households, where kitchen music is as normal as breathing, where friends more often than not arrived at the house with fiddle or guitar in hand, and parties (I miss the parties!) are not parties unless the tunes keep going until 2 or 3 in the morning.  What I love about Vishtèn is that they keep true to that in their performance.  There is nothing gimmicky, only the music, and the music speaks for itself.  What you see on stage is ramped up with lights and amplification, but to me is just a down-home kitchen party at its core, a taste of East Coast life.
Aside from performing traditional songs and tunes, the group are also prolific composers.  You can even purchase their tunebook and learn their tunes yourself.  Be warned though, some of them are in some pretty challenging keys!  If you are interested in studying traditional East Coast music, also available on their website is a collection of PEI Acadian tunes, Les Faiseux de Tounes, compiled by another Island friend, Anastasia Desroches.
Here they are in Toronto playing two of my favourite Vishtèn tunes, Philippe à Léo/Shetland's Magical Bus, from their album, Mosaîk, thanks guys!
More on Fiddle Music to Come!
Going to their performance is rekindling the bug for Celtic music in me.  I can't wait to start blogging about how you can incorporate traditional music into your classroom or private teaching.  And I can't wait to share with you my transposed tune sheets for violin, viola, cello and bass!
Meanwhile, Vishtèn is a great group to introduce to your students as an example of East Coast, Acadian, Francophone, and Canadian traditional music.  Enjoy Vishten's performances on their Youtube Channel.  Their music is available on their website.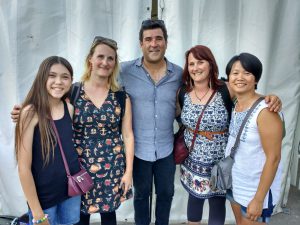 *The Acadians are the original French settlers in the area we now know as Nova Scotia, Prince Edward Island and New Brunswick in the Canadian Maritimes.  They were separate from the colony of New France that became the province of Québec.  Their displaced descendants in the United States are known as Cajuns.