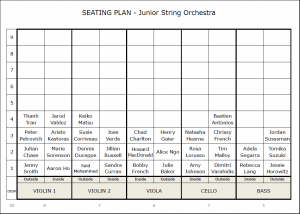 Time to get organized!
It's the beginning of the school year and it's time to make up some new seating plans.  I thought I'd tweak my seating plan and share it with those of you who don't have one, or who are unhappy with yours.  I think this seating plan is a good compromise between a semi-circle seating plan, and a list of sections by desk.  It makes it easy to visualize the students in your class or your rehearsal group and is not restricted to the size of your space or the set-up of your rows, which can vary whether you are in the classroom or on stage.  And after the lesson on string orchestra seating plans, your students will understand how to be flexible about where to sit as well.
Something that I added last year is the row underneath the seating plan.  If you are like me, I never remember how many students I have in my classes or my performing groups and when someone asks, I am scrambling to count.  So, this seating plan will automatically count the total number of students underneath each section and how you the group total in the bottom left hand corner.  Life saver!
Download the free seating plan template below as a regular .xlsx Excel file, or the .xlt Excel template if you know how to install that.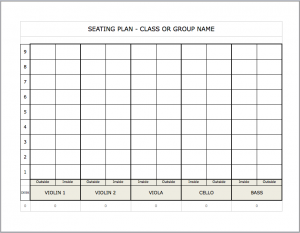 Download Now
Free Seating Plan Template for String Orchestra - Excel .xlsx
Free Seating Plan Template for String Orchestra - Excel .xlt