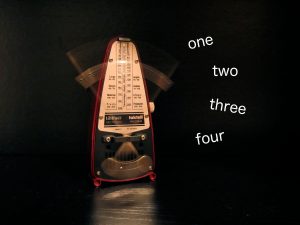 Yes, I'm still here! Been very busy working on many different aspects of SMT, including many hours of editing to bring you a really cool scale method for strings. More to come soon!
Meanwhile, I made counting metronome tracks for my students to practice to.
Students often find metronomes intimidating, difficult to follow, and just downright discouraging.  Counting is much easier to follow as it gets the students counting along in their head and predicting when the next beat is, whereas the monotone clicking of a metronome doesn't encourage that.
At some point, I'll make them into videos, but for now, this is just a not-so-quick post to get them working!
And yes, there a few talking metronome options out there already, but I found the voices unpleasant to listen to. Hopefully you'll find my voice more pleasing!
VERY SLOW – M.M.=50
SLOW – M.M.=60
MEDIUM – M.M.=70
Coming soon…. FASTER – M.M.=90
Coming soon….