So you've committed yourself to playing the world's biggest instrument. How are you going to get around with it? More importantly, how are you going to carry it home? Watch this video to see how easy it is.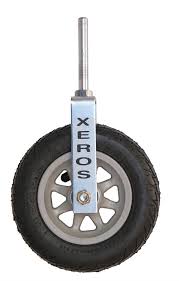 If you are a teacher and students are taking instruments home a lot, you might want to invest in a bass wheel. I bought two of these Xeros Bass Wheels many years ago for my basses. It looks like they now come with an optional brake.  It is very compact and easy to use; just remove the shaft of the endpin and insert the wheel.  You have to be careful, however, to check the size of the endpin shaft of your basses. The wheel comes with different sized shafts, and if you have a bunch of different basses with different sized shafts, this might not be the best option for you. Also, the shaft in some endpins aren't removable, so you wouldn't be able to use this on those types either.
If your budget allows however, you could invest in this cool new design, the Bass Buggie.  Here is a demo video:
Whatever you do, making the bass easy to take home goes a long way to getting your bass players to practice.