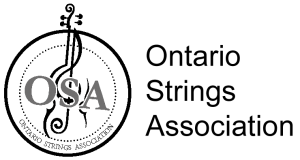 Did you know that Ontario has an association for string teachers?  Sometimes teaching strings can be a lonely pursuit.  Well, no longer!  Join your fellow string teachers by becoming a member of the Ontario Strings Association. The association has a growing membership committed to fostering a community of string educators, providing them with professional opportunities, and promoting the value of strings education throughout the province of Ontario.
Orchestra Festival
One of their most prominent endeavors has been the Ontario Strings Association's annual Orchestra Festival for strings and symphonic orchestras, the first ever in Ontario.  Now with well over 1200 participants, the festival has grown from a one-day event in Toronto to a 3-day event, including two days in Brampton.  It is the largest string festival in Canada, and successful participants are invited to join their peers from the Ontario Vocal Festival and the Ontario Band Festival at the nationals at MusicFest Canada.
Spring String Conference
Another growing event is the OSA Spring String Conference.  This year's String Conference is coming up on Saturday April 21st, 2018 in Toronto, at North Toronto Collegiate, so mark your calendars now!  Featured are special guest clinicians Valerie Palmieri, string educator, pedagogue, and director of orchestra at Adrian College in Michigan; and John Fulton, representative of Scherl & Roth stringed instruments, violinist and teacher.  Also at this year's conference are locals, bassist and teacher, Ian Medley, and… you guessed it… yours truly, Grace Law of SmartMusicTeacher.com!  More about that in the next post….
OSA Youth Orchestra
Finally, the Ontario Strings Association has an auditioned Youth Orchestra, OSAYO.  This annual exhilarating four-day retreat and tour is open to participants from age 12-19 from all over Ontario.  Last November's exciting OSAYO retreat was directed by well-known composer, teacher and pedagogue, Bob Phillips.
Membership
So, as you can see, if you are a string teacher or aspiring string teacher in Ontario and are looking for events and resources, look no further!  For only $25 a year you can become a member of this growing organization connecting the string teachers of Ontario.  Even better, attend the upcoming OSA Spring String Conference and membership (and lunch) is included in the $75 conference fee!
Be sure to spread the word about the Ontario Strings Association to string teachers in your midst, and hope to meet you at an upcoming event!