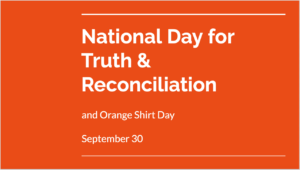 This Thursday, September 30th will be the first National Day for Truth & Reconciliation in Canada.
It's a day to honour the lost children and survivors of residential schools, and remember the ongoing impact this painful history continues to have on their families and communities.
This new federal statutory holiday is a vital component of the reconciliation process and is the 80th of the 94 Calls to Action by the Truth and Reconciliation Commission of Canada, the first commission of it's kind in the world.
Orange Shirt Day
September 30th has also been recognized since 2013 as Orange Shirt Day.  The day was inspired by the story of residential school survivor, Phyllis Jack Webstad, when she recounted her story about the excitement she had for her first day of school.  She happily wore the bright orange shirt her grandmother bought her, only to be stripped of her clothes when she got there. She never saw her orange shirt again.
Wearing an orange shirt on September 30th reminds us of this time of year when indigenous children would be separated from their families, and how the residential school system worked to take away the identities of its indigenous students.
Using Music to Effect Change
If you are Canadian (and even if you are not), I wanted to share with you a presentation (approx. 70min.) that my colleague put together.  I would say it's appropriate for middle school and up.  The presentation introduces students to the National Day for Truth & Reconciliation, the purpose Truth and Reconciliation Committee, the experiences of survivors, and ends with a performance Gord Downie's, The Secret Path.
The Secret Path is a 10-song concept album about Chanie Wenjack, a 12-year old Anishinaabe boy from the Marten Falls First Nation who died of starvation and exposure in 1966 while trying to return home after escaping from an Indian residential school.
Gord Downie was committed to using his influence and the power of music to help improve the lives of the First Peoples of Canada. The Secret Path, was his last project before he passed away, and it played a significant role in opening up the conversation around residential schools in Canada.
Celebrate Indigenous Cultures
As well as recognizing the impact of residential schools on indigenous peoples, we also want to make sure to explore the rich and diverse cultures of First Nations, Inuit, and Métis peoples, including their music.  Stay tuned for the next post.
Meanwhile, feel free to share this presentation with your students.  You are welcome to share it with other teachers.
Google Slides:  National Day for Truth & Reconciliation Presentation
Power Point:  National-Day-for-Truth-Reconciliation-Presentation.pptx
Have you joined Smart String Teacher yet?  Subscribe to be notified of new blog posts, books and courses!