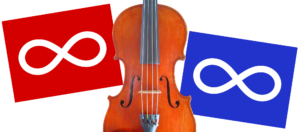 Have you ever wondered how to incorporate relevant indigenous content into your string classroom?  As part of this week's posts celebrating Canada's first National Day for Truth & Reconciliation on September 30th, I want to introduce you indigenous string playing!
Indigenous string playing, you might be asking?  It's very likely that you didn't even know that the violin, or rather the fiddle, plays a large part in some First Nations cultures!
One of those cultures is the Métis who have a very long history of fiddle-playing.
The Métis are a people of mixed indigenous and European ancestry, descendants of Scottish and French fur traders who married indigenous women in Western Canada in the 19th century.  While originally marginalized because of their mixed blood, after 1885 they were officially recognized as an Aboriginal people with rights enshrined in the Constitution of Canada.
Fiddle music is an integral part of the social fabric of the Métis.  They embraced fiddle music very early on and it continues to be an important part of their everyday lives.  As you might expect from their background, Métis fiddling mixes First Nations, Scottish and French-Canadian rhythms resulting in their own unique beat and sound.
Of course, fiddle music isn't fiddle music without dance.  The traditional Métis style of dancing is called jigging.  Unlike what is often known as jigs, which are in compound time, jigging is a fast dance in cut time.  It is a combination of First Nations dancing with elements of Scottish and French-Canadian step-dancing.  Here is an excellent video illustrating how Métis jigging evolved out of the footwork of First Nations dances, Scottish sword dance, and French Canadian step-dancing.
And if you want to learn to dance the Red River Jig with your students….
Finally, one of the most well-known Métis fiddlers was Andy De Jarlis from Woodbridge Manitoba.  One of the most popular fiddlers in the prairies, during his lifetime he composed more than 200 tunes, recorded 38 albums and won over 20 fiddling competitions in Western Canada.  He was also very influential on many younger Métis fiddlers.
How about learning some Métis fiddle tunes with your students?  You can buy a copy of Andy De Jarlis' Complete Canadian Fiddle Tunes from the Red River Valley and get started!
Here's Andy performing the Caribou Reel….
Here's a handout with some simple reflection questions you can use when you share these videos with your class, Métis Fiddling - Reflection Questions (PDF).
Excited to start learning some Métis fiddle tunes with your students?
If you don't know where to start, check out how I teach the practice of playing traditional fiddle tunes to my classes.
Stay tuned for another post about indigenous fiddle playing!
If you want to learn to play fiddle yourself, watch my emails for the next time I run my course, Celtic Fiddle for String Teachers.
Have you joined Smart String Teacher yet?  Subscribe to be notified of new blog posts, books and courses!