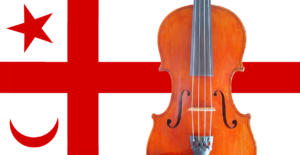 National Day for Truth and Reconciliation
Today is Canada's very first National Day for Truth & Reconciliation.
As music teachers, we can play a small but vital part in the work we need to do to honour the 94 calls to action by the Truth and Reconciliation Commission of Canada.  One of those ways is by introducing our students to the rich diversity of indigenous music in our country, including string-playing!
This week so far, I have posted about the role music has played in opening up the conversation around the devastating effect of the residential school system, and about the history of string-playing in the Métis First Nation.
Today, I want to introduce you to the music of the Mi'kmaq ('mig-a-maw' or 'mick-mack') of Cape Breton Island, Nova Scotia.  Home of the world famous driving sound of Cape Breton fiddling, it's not surprising that the Mi'kmaq have taken up fiddling there as well.
Eskasoni First Nation
The Eskasoni First Nation is a Mi'kmaq-speaking community located along the Bras d'Or Lake in Eastern Cape Breton Island.  It is the largest First Nation in the province of Nova Scotia, and the largest Mi'kmaq community in the world.  The Cape Breton Mi'kmaq are influenced by the Cape Breton Gaelic and French cultures.
One of the most well-known Mi'kmaq fiddlers was Lee Cremo (1938-1999). He was the Maritime Old Time Fiddling Champion six times, as well as "Best Bow Arm in the World" at the World Fiddling Championships in Nashville, Tennessee, and "Canadian Champion" in Alberta, and in 1996 he won the East Coast Music Award for best First Nations recording.   Over his lifetime he won over 80 fiddle competitions.  He also composed his own fiddle tunes.
The following video is a typical example of the humour Cremo brought to all his performances and for which he was known.  The second number he performs in the video is his most well-known tune and an East Coast favourite, The Constitution Breakdown.
Wagmatcook First Nation
The next Mi'kmaq musician I want to share with you is up and coming singer and fiddler, 22 year-old Morgan Toney of Wagmatcook First Nation, Cape Breton.  Wagmatcook First Nation is located in central Cape Breton, near Baddeck.
Toney's unique and contemporary sound melds fiddling while singing traditional Mi'kmaq songs.  He and his partner, guitarist Keith Mullins, are passionate about sharing Mi'kmaq music and culture with a wider audience by  making it more modern and accessible.  Their music is full of energy and aliveness.  Listening to it, you can't help but feel drawn into the Mi'kmaq lifestyle of music, dance and song.
Toney comes a long line of fiddlers in his family, a legacy that he felt compelled to continue by taking up the instrument a few short years ago. Once you hear his performances below, I am sure you'll be hooked!
Contemporary Mi'kmaq Singing
And while we are being introduced to the music of the Mi'kmaq, I couldn't help but include this beautiful example of singing in the Mi'kmaq language.
2019 was the United Nation's International Year of Indigenous Languages to raise awareness around endangered Indigenous languages. There are only about 10,000 speakers of the Mi'kmaq language left in the world.  The students at Allison Bernard Memorial High School in Eskasoni decided to record Paul McCartney's Blackbird in Mi'kmaq language for the occasion.  The phonetic translation is included in the lyrics provided in the description.  The song was performed by Emma Stevens. who was 16 at the time.  It's so mesmerizing, I can't stop listening to her sing this over and over again!

So, I hope you have enjoyed my posts.  It's my small contribution to the cause of truth and reconciliation by helping you discover and share the rich and diverse musical culture of indigenous peoples with your string students.
I also hope that I helped open up some new possibilities for repertoire for your string students to learn, repertoire that was created by the First Nations people of Canada.
If you want some ideas on how to teach fiddle tunes to your classes, remember to check out my articles.
And if you want to learn to play fiddle yourself, watch my emails for the next time I run my course, Celtic Fiddle for String Teachers.
Have you joined Smart String Teacher yet?  Subscribe to be notified of new blog posts, books and courses!