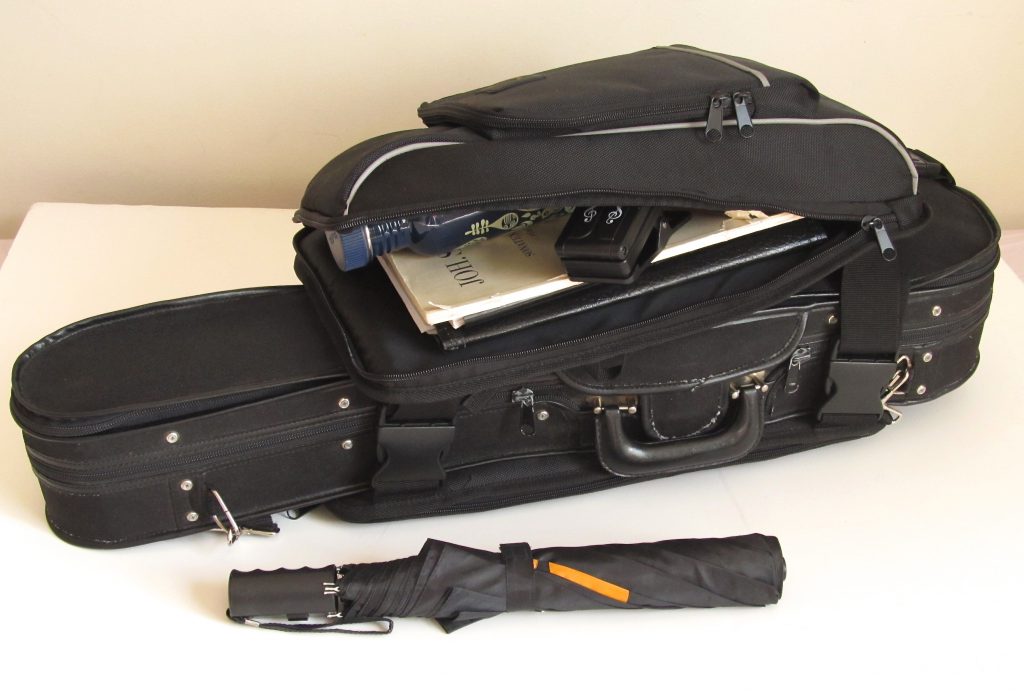 The Perfect Violin Backpack
For years I've been commuting with my purse on one shoulder, my backpack on my back, my violin on the other shoulder, and my music stand poking out of my bag, which couldn't zip up completely. If I wanted to pick up some groceries on the way home, or if I had to hold up an umbrella, I had to perform an unsuccessful balancing act on my small shoulders. Add to that layers of clothing during Canadian winters. I finally said to myself, there has to be a better way.  But I didn't want to get a new case because I love my shaped case, and I didn't want a case cover because I would still be dealing with both a backpack and a violin. I needed a backpack that would fit my violin, my music, and all my gear.
The first thing I tried was my cycling pannier that I had bought to fit my violin. It has backpack straps and I used it for a while, but it barely fit my music and my stand. It was comfy, but not ideal.
Since I was also in the market for a new camping backpack, I thought that this option might fit my violin and all my gear. I went to the local outfitters to try some out. They were great and ergonomic, but a little overkill because of the frames and heavy hip belts … not to mention the price tag.
Then I happened to come across Shar's website just after they launched their new product, the Joey Violin Case Carrier. They had this video featured on their front page and I knew right away it was exactly what I was looking for.
.

.
I couldn't wait to get one, but it was designed for rectangular cases and I wasn't sure it would fit my shaped case. Well, a Boxing Day sale came (regular price is $79USD) and I went ahead and ordered one, and it turned out to be perfect! Finally, I had something that would carry all my music, my music stand, my accessories, and my violin all on my back and left both of my hands free. Wow.
The Joey violin backpack feels very well-made and is made of good quality materials. The buckles are very large and feel very strong. It has lots of different areas for storage. In fact, the design is very well thought out. Here's what it looks like with my gear all packed up, including my perfect Uberlite U100 music stand in the side pocket:
Here's what the storage area looks like with my music, orchestra folder, water bottle,and my perfect Aroma AL-1 stand light in the large section, and my pencils and Korg tuner in the small organizer pocket:
Here's the side pocket for a music stand and/or the free branded umbrella that comes with the backpack. The pocket is wide enough to fit my folded Uberlite U100 and my perfect pencil holder, the Manhasset accessory stand. The pocket also zips up flat if you don't need to use it.
Here is the Joey violin backpack on my back. I find it quite comfortable, but if they could sew the straps in at a slight angle instead of straight, I think it would make it super all-day comfortable.
I have the side straps tightened as far as they will go, and find that my shaped case fits snugly without shifting around when I walk. Only a single strap at the bottom keeps the case from falling out so I am always a bit nervous about not snapping in the lower buckle completely. I always tug on it to make sure I have it secured. There is a short safety strap that is supposed to snap onto your handle, but unfortunately, I lost it because it wasn't sewn into the loop. I know it's in the house somewhere and I will finally sew it in myself when I find it.
Also, I've found that I have to make sure that my music stand is secured tightly so it doesn't fall out when I am lifting the case horizontally by the handle.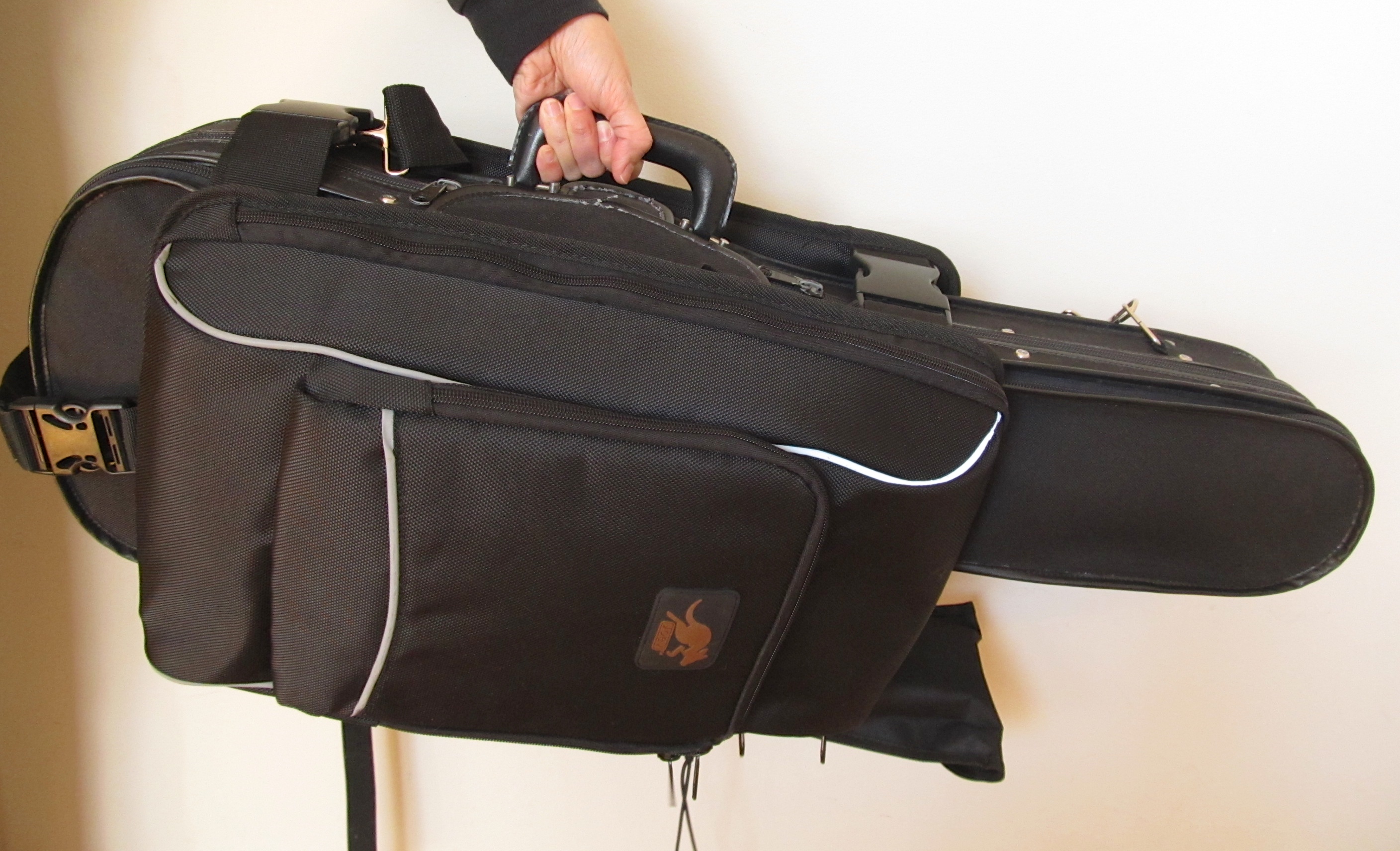 There is also a cover for the backpack straps, in case you aren't using them and you want them out of the way.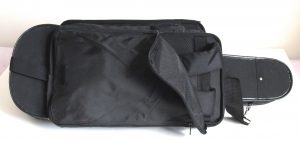 So there you have it – the Joey violin backpack, the perfect backpack to hold all my perfect rehearsal gear. I can't believe how free I feel using this backpack after years of juggling everything on my small shoulders.
I hope you enjoyed this series of reviews and found some helpful information. There's nothing like the feeling of finding the right gear to fit your own individual needs, and I am always thankful for the people who take the time to share their opinions and experiences with others to help them find what they are looking for.
Enjoy your own hunt for the perfect rehearsal gear!
My Perfect Rehearsal Gear Series:
Part 1 – The Uberlite U100 Lightweight Folding Music Stand
Part 2 – The Manhasset 1100 Accessory Shelf
Part 3 – Music Stand Light AROMA AL-1
Part 4 – The Joey Violin Backpack