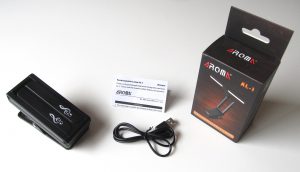 The Perfect Portable Music Stand Light
Well, I've got the perfect stand and the perfect pencil holder. But I recently discovered that I also need to get myself a stand light! I've been having trouble reading my music at rehearsal lately due to the poor lighting, and one evening my eyes finally said, nope – can't read in this light anymore! So I found myself in search of the perfect portable stand light. I took a look around at what the other orchestra members were using….
Some had the type that has two separate lights held up by two adjustable goosenecks like the Mighty Bright. We have those at school, so I tried one out and found that it wasn't bright enough. Each little lamp had only two LED's which created uneven spots of light, and a bit of a coloured ring on the outside edges.
Others had the type with a single row of multiple LED's on a gooseneck, which seemed much brighter and even, and was the type I was gravitating towards.
But then I came across this neat little light, the Aroma AL-1, also sold as the Mugig folding stand light, which is what I found it as.
It's super compact!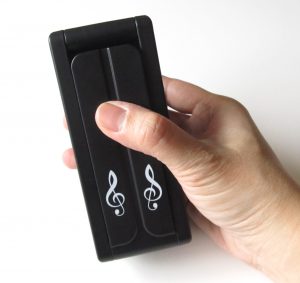 It has such a cool design.  Here's how the Aroma AL-1 unfolds:
It doesn't need bulky batteries; just plug it into to a micro usb charger to charge for 3.5hrs.  The indicator light flashes red at when the power goes below 30%, and flashes green when charging.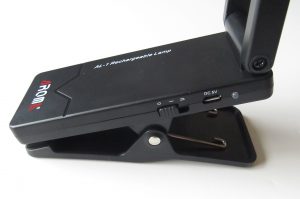 It has two settings:  night reading at 20%, and full power at 100%.  It also automatically turns off when you fold it.
And here is the Aroma AL-1 music stand light on my Uberlite U100 folding music stand and my Manhasset accessory shelf.…
You might be wondering how tight the folding parts are. Well, they feel very snug and I don't expect them to loosen anytime soon. Also, they have screws in them, so I imagine you could tighten them a little if you needed to.
The light can also function as more than just a music stand light by sitting securely on a tabletop. I like to use it when I am using the computer in the dark so I can see the keyboard.  I've used it on my bed stand for reading discreetly at night. It has turned out to be really versatile!
So happy with this purchase!
Want to find out what I use for the perfect violin backpack?  Read on in my next post.
My Perfect Rehearsal Gear Series:
Part 1 – The Uberlite U100 Lightweight Folding Music Stand
Part 2 – The Manhasset 1100 Accessory Shelf
Part 3 – Music Stand Light AROMA AL-1