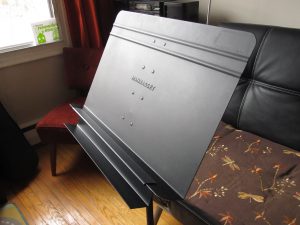 The Perfect Music Stand Pencil Holder
Are you tired of losing your pencil under all your music? Are you tired of it getting in the way when you turn pages? And where do you put your eraser and your baton??
I searched high and low for some kind of ingenious method to attach my pencil to my music stand. All I was able to find were magnetic doohickeys (that won't work on all metals), clips, and springy things. I was about to try to design something on my own when I finally came across the perfect solution… the Manhasset 1100 Accessory Shelf (also sold as the M48).
It's the perfect pencil and 'everything else' holder, and I am surprised this accessory isn't more popular. My colleagues at orchestra have been admiring it and asking me where I got it. Turns out, it's not that hard to find, and it only costs $12.99CAD ($9.00USD). I think that it's hard come across it because when you search 'music stand pencil holder,' it doesn't come up, and it probably wouldn't cross your mind to search for a shelf. Well, this is definitely a little-known must-have!
Here's what the Manhasset 1100 accessory shelf looks like: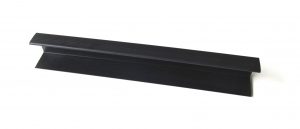 It seems to be made of a flexible, durable plastic.  I'm sure it won't snap easily or break if it fell on the floor.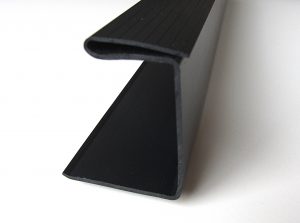 When I ordered it, I was hoping it would fit on a folding stand too, and it does!  I have music holders on the front of my new Uberlite U100 music stand, so I had to move those to the side in order to get the shelf on.  But it worked.  My stand partner was impressed!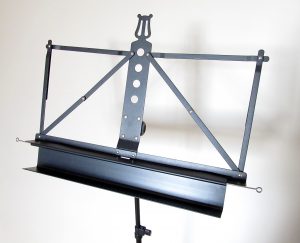 Here it is on my Manhasset at home, with some of my accessories:  a pencil, my tuning fork (yes, I still use one) and my practice mute (for late night urges to practice).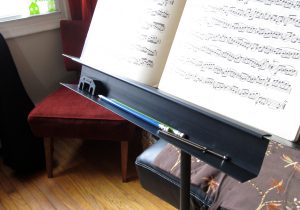 If I bundle it up with my stand into my stand bag, it doesn't take up too much room. It would be nice though, if they made a shorter one for folding stands so that it could be more portable. It's just a bit too long for the stand bag, so I'll have to sew a new bag for myself someday.
Anyway, I am so happy with this simple and brilliant accessory. There's only one problem: I need to get two more, one for my conductor's stand at school and one to stay at home!
Read the next post to find out how I complete my music stand set-up with the perfect stand light.
My Perfect Rehearsal Gear Series:
Part 1 – The Uberlite U100 Lightweight Folding Music Stand
Part 2 – The Manhasset 1100 Accessory Shelf
Part 3 – Music Stand Light AROMA AL-1