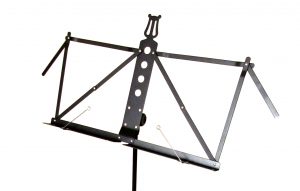 The Perfect Folding Music Stand
Welcome to the first blog post in a series of product reviews on my favourite rehearsal gear! After a couple of years of piecing together the many things I need for orchestra, I finally have my ideal gear figured out and I am so happy! In this series, I am going to review my favourite violin backpack, folding music stand, pencil holder, and stand light.
For years I've been lugging around an old Hamilton folding wire stand. Don't get me wrong, it is widely available, economical, and completely functional. But it is so heavy! I dropped it once on the living room floor and it unfortunately left a sizable dent, not to mention that it barely missed my toes. The top also wiggles a bit, so my music was sometimes slightly lopsided, which is just on the brink of being annoying.
So with all the playing I've been doing lately, I felt I deserved an upgrade! I've been on the search for the perfect music stand, and checking out the stands other members of the orchestra are using. These are the ones I was attracted to:
The Peak folding music stand is unique in that the desk folds up into a square and the legs go into it. Though the result is fairly large, this is a great option if you need a heavy duty and sturdy stand. It weighs 2.2kg (4.8lbs) and ranges from $42 to $55USD ($56 to $74CAD).
The Peterson folding music stand. I almost got this one. It is so simple! The desk folds in half and houses the legs. This would be my first choice if I didn't have to worry about weight. It's 3.5lbs and sells for about $60USD ($80CAD).
The K&M Ruka folding music stand. This was lightest one I could find available in North America, but it comes in one piece, so it doesn't fold down compact enough for me. It is 1.1kg (2.4lbs) and sells for $37USD ($50CAD).
What I Want in a Portable Music Stand
My criteria for the perfect music stand is simple: it needs to be lightweight, sturdy and compact so that it fits in my backpack because I walk a lot and take transit. Though I liked the three stands above, they only fit some of these needs.
After much searching, I finally came across the Uberlite U100. Not only is it super light, coming in at only 700g (1.5lbs), it also comes apart in two pieces and is slightly shorter than my Hamilton, though wider. It looks and feels almost identical to the Ruka when set up.
The only con that came with this stand is that I had to order it from the UK. It was only £16.67 from Justflutes.com, but shipping was another £14.55. So altogether I spent about $51CAD ($38USD), which is pricey, but in line with the Ruka. I always get a lot of mileage out of my music stands, so it's a long term investment. Hopefully by the time you read this post, the company will have started supplying vendors in North America.
Here is the Uberlite U100 in the case, fresh out of the box.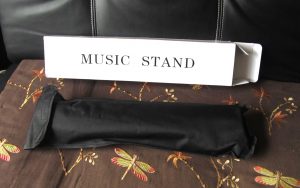 And here it is out of the case, in two pieces.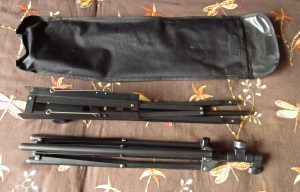 The desk is adjustable to any angle and the teeth keep it in place.  It took me a few minutes to figure out how to operate it, but it's easy; you just push in with your thumb.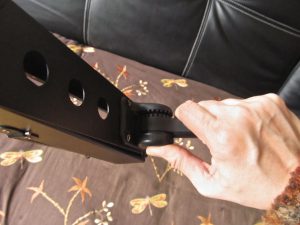 Here is the Uberlite U100 folding music stand all set up. There are two music holders on the lip and extensions in case you need to hold more than two pages. In the tallest position it is about 1.2m or 4 feet.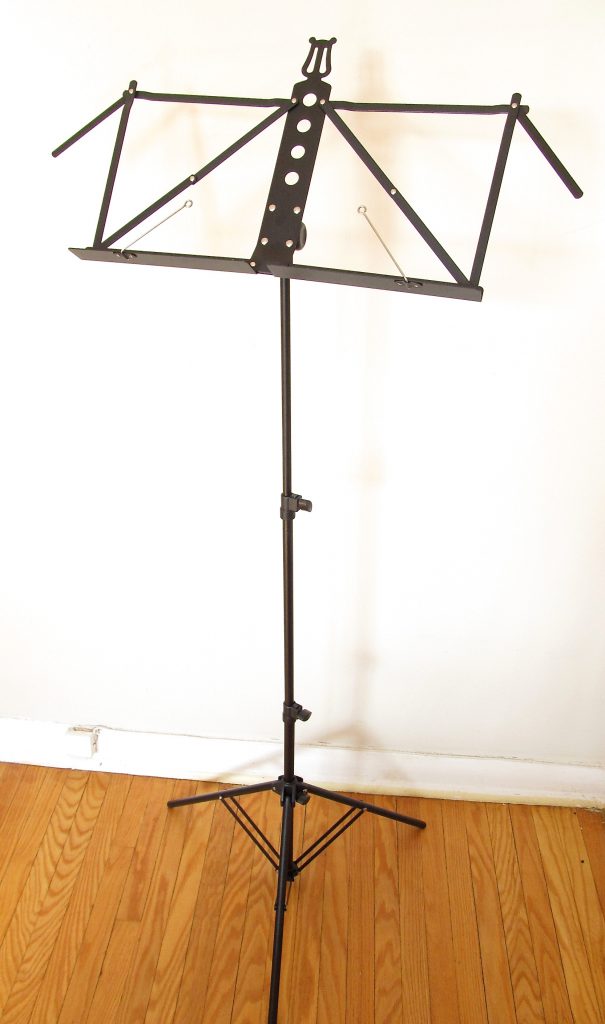 Best of all, the Uberlite folding music stand is sturdy, the top doesn't wiggle like my Hamilton did and it is so, so light. I am SOOOO happy!
Stay tuned for my next post to find out how I accessorize it with my favourite stand light and pencil holder.
My Perfect Rehearsal Gear Series:
Part 1 – The Uberlite U100 Lightweight Folding Music Stand
Part 2 – The Manhasset 1100 Accessory Shelf
Part 3 – Music Stand Light AROMA AL-1
Part 4 – The Joey Violin Backpack