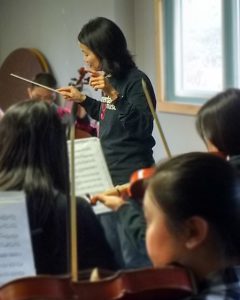 There has been so much going on. This poor blogger has so much to share with you, but barely enough time to blog! Part of the reason perhaps, is that as a violinist, I am too perfectionist about it. I want to have every word, picture and video in place before I publish each perfect post.  But as I've learned the hard way, perfectionism means nothing is ever ready, and the final product is always in the future. So, my new resolve is to write something once a week, whether it is just a thought, or the beginnings of a new idea.
The second reason is simple – teaching music can be all-time-consuming. One of the things lately that has been taking up most of my time, aside from more performances and field trips than usual and report cards, was planning for our exciting first-annual Music Department Retreat!
Well, we just got back, and it was a blast! It has been many years since I last participated in a music camp, and for the past while I've been wanting to plan one for my string students. So this year, we decided to have one for all three departments, Vocal, Band and Strings!
And yeah, as you can see in the picture below, little ol' me got to drive a truck full of instruments!  Okay, it was a 16ft cube van, but it was big, and it was fun! I actually enjoyed the challenge of driving it and maneuvering it. Made me feel like being a trucker mama when I retire. Can you see it???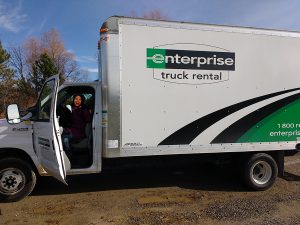 But enough about my future retired-music teacher plans. Back to the retreat….
At first, I didn't know how much we would be able to accomplish in just two days, but it turned out that even in that short amount of time, we accomplished so much! Just the opportunity to have two days to focus on music (and leadership and outdoor activities) really helped the students and myself accomplish so much more than if we had only had our usual classes. It really felt like we had done a couple weeks' worth of work.
I must say, my violin/viola clinician Ivana Popovic, and cello/bass clinician Sarah Steeves, did amazing jobs. They worked on skills that I don't get a lot of time to work on, like vibrato and tenor clef, and had the students really focussed on technique. We even did a little performance for the students, which of course is always eye-opening to them. It was great for them to see that, even when sight-reading, you can play musically. They witnessed all the things that they had been trying to learn through their recent chamber music unit – communication, intonation, dynamics, and musical expression.
Oh, and what could be better than watching deer go by the window as you are teaching???  We don't get that in the city!
Aside from sectionals and full ensembles, the students got to sing in a huge massed choir with all three departments, do some African and Latin drumming, some outdoor activities, and some leadership activities.  There was a talent show, and don't forget the campfire – I can't believe the staff at the facility organized marshmallow roasting for 160 students!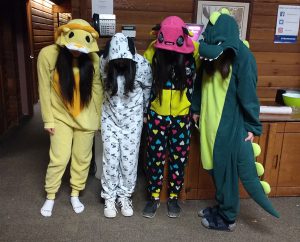 One thing I really enjoyed about the retreat was the opportunity to get to know my students and other students in the department better. You discover more about them, and they show you facets of themselves that they wouldn't get to otherwise, like their helpfulness, and their resourcefulness, and their wackiness! And students who you weren't sure were enjoying music that much surprise you too by stepping up and playing better than you, or even they, realized they could.
And it's always heartwarming when, after a couple of days of bonding, the students show you how much they appreciate you at the sad end of the trip.
The experience at a music retreat or camp is such a great example of how a music education educates the whole person. Through music, students learn to work together, accept each other, learn to challenge themselves with each note they play. They learn to interpret music through analyzing it emotionally, and they learn to take risks every time they dare to play a note for all to hear. They learn to overcome fears, become a community, and be a mentor to others. They learn to communicate through working together, through trying to create a whole out of their individual parts, and through the ultimate expression of emotion through their music. And perhaps most importantly of all, music education is ultimately about the bond between people, because without it, music could not be created or appreciated.
That is what I see students experience every day in the music classroom, but more intensely so at music camp. It is such an amazing gift, to have the opportunity to teach music to so many students. I appreciate that gift every day.
Music camp. There is nothing else like it. As a student, I remember wishing, if only every day was like music camp. Now as a teacher, I am wishing the same!