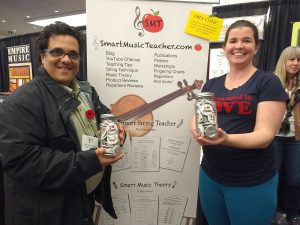 Last weekend's Opus 100, the Ontario Music Educators' Association annual conference, was so much fun!  Two days of fantastic clinics and keynote speakers.  One of the most memorable moments was the performance of the incredibly beautiful piece commissioned for the event, Intrinsic Light.  It was composed by Cait Nishimura and performed by the Ontario Provincial Honour Band in celebration of OMEA's 100th anniversary.
I was also incredibly touched by Alvin Law's inspirational keynote.  Alvin Law was born without arms and credits his music teacher for changing his life one day by placing a trombone in front of him.  Alvin is now a popular public speaker.  Check him out on YouTube:
This conference was a special one for Smart Music Teacher.  Last year, I was offered a tiny table three days before the conference.  This year, I had my own official booth.  So awesome!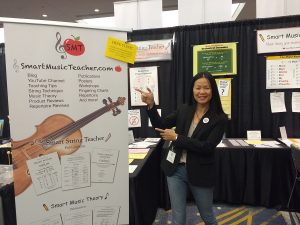 I was pleasantly surprised by fans from last year who couldn't wait to return to purchase Smart String Teacher materials for their string students!
One of the things I decided to do at the last minute was a pre-launch of Smart Music Theory.  I wanted to see what the response would be… and it was overwhelming!  Teachers were so happy to finally find a theory method that was designed for the needs of the classroom.
If you are tired of theory books that were written for young piano students, or tired of trying to piece together materials from multiple sources into something usable, stay tuned for the official website launch of Smart Music Theory!
Here are some more happy owners of Smart String Teacher and Smart Music Theory publications.
We had some fun at the booth too, giving away freebies such as magnets and buttons.  And we had a draw for two jars of SMT 'I Love Strings' buttons.  The two lucky winners are featured at the top of this page.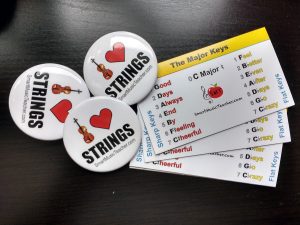 And the Ontario Strings Association shared on social media the 'Strings Geek' buttons SMT designed and donated to their booth: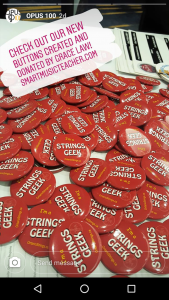 Finally, it is always great to attend these conferences and reconnect with colleagues and friends.
But best of all, it was such a rewarding opportunity to be able to talk to so many teachers and help them with their classroom challenges and goals.  And I got to meet some of YOU!
Looking forward to next year, and to taking the show on the road to other conferences.  If you think Smart Music Teacher should show up at your local music or string teacher's conference, contact me!