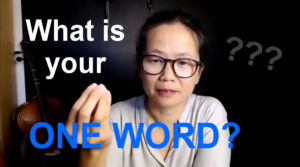 Wow, it's been an amazing summer, with 2 sessions of Teaching Beginner Strings Made Easy now done! Thank you to two fantastic groups of dedicated string teachers!
Since many of you are back to school this month, I thought I'd share with you a clip and a tip from one of the classes.
Jacqueline, who is going to be teaching high school for the first time, had a question about teaching her first symphonic orchestra class.  I had some advice to give her that I wanted to share with you.
This simple but effective tip will help you give your teaching focus and direction, shape who you are as a teacher, and set the basis for the environment you create in your classroom. It can also be a successful part of your classroom management strategy.
Watch the video below and let me know in the comments, what is your ONE WORD for the year and why?
Video link:  https://www.youtube.com/watch?v=iSbfvPUce50