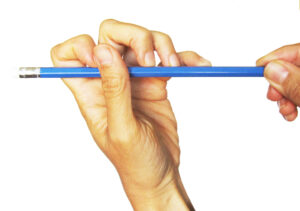 This is going to change the way you start your beginners.
Chances are, you've probably started bow hold on a pencil or some other object before introducing the actual bow.
This is a crucial step in teaching bow hold technique because it's less intimidating, simplifies the process, and establishes muscle memory for upcoming skills needed on the bow.  This is great pedagogy for the bow hold but, what about the left hand?
The left hand, especially for the upper strings, can be just as much of a challenge to teach as bow hold. In fact, without an effective preliminary step, setting up a beginner with the left hand on an instrument right away can feel intimidating, and many things tend to go wrong.
Well, no more. If you use my pencil technique, you can introduce your students to the correct left hand skills very easily ahead of time! In fact, by the time you put an instrument in their hands, they'll already know what to do, saving you so much time and effort!
In this video, in addition to explaining my left hand pencil technique, I explain how my handouts will also save you valuable time and effort.
Video link: https://youtu.be/-T3oTwMsbV0
As you can see, my Smart Bow Hold & Left Hand handouts, in addition to using the pencil for both hands, is the most effective way to efficiently set up a classroom full of students with beginner technique.
It's miles more efficient and effective than demonstrations from the front of the room or online.
It's better than videos because the pictures don't move and you don't require a device.
It allows everyone to go through the instructions at their own pace and doesn't leave anyone behind.
It provides a visual aid that students can take home and review.
And it's great for remedial work too!
Many teachers have used my method with faster, more effective results.
Get your copy today and start enjoying the time and effort you are going to save!
Get them here:  Smart Bow Hold & Left Hand handouts