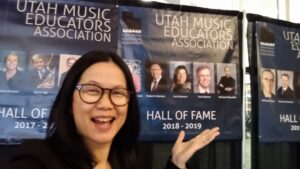 I can't believe I'm back from my very first international gig!  If you've been following me on Facebook, you know that I just returned from the Utah Music Educators Association Conference 2022 in St. George.  What a blast!  So great to be working with such dedicated string teachers – in person again!
First, a big THANK YOU goes to the UMEA VP of Orchestra, the amazing Ashley Braitewaith, for spontaneously inviting me to Utah last fall.  We went through so many stresses, including new lockdowns, cancelled flights, winter storms, and covid-testing stresses.  It almost didn't happen, but after a grueling 12 hours of travel time, I finally made it!
Ashley had been following my posts on Facebook and had missed every one of my online masterclasses.  So she decided to do the next best thing – invite me to teach in person!  You took such good care of me, Ashley.  Watching you in action was inspiring.  The UMEA membership is so lucky to have you working for them!
Congratulations to the members of the UMEA leadership team and state committees who made this great event happen!  The conference itself ran so smoothly, and everyone reported that the content was of very high quality.  I know that after two years of challenges and hits to our music programs, it was a well-needed opportunity to be together with others dedicated to becoming better at what they love to do – teach music!  From what I could see, everyone came away energized with new ideas and inspiration to take back to the classroom.
Second, thank you to all the teachers for attending my three sessions. It is so rewarding to be able to help you make strings easier to teach so you can be more effective with your students.  I loved meeting all of you at my booth, especially those of you who were already following me.  It's so great to put faces to the people on my mailing list!  (By the way, Kiley, your group did an amazing job performing!)
Third, another big thank you goes to Robert Schmidt, UMEA President-Elect, and his wife Becky for being so generous as to show me around the beautiful St. George area the day after the conference.  They took me to explore Snow Canyon.  It was truly breathtaking.  We took a moment to relax in an especially tranquil spot and we all felt months of covid stress just melt away.  Spend time in nature, if you can.  It really is good for the soul.
Congratulations to the winners of the raffle contest!  Can't wait to work with Daniel who won a scholarship to TSME1, Alia who won 1hr of mentoring, and hope your students enjoy their buttons, Jennifer!
Thank you to everyone who purchased and can't wait to use my books with their students.  I created my materials to help make teaching easier for me.  I know that they will make teaching strings easier for you as well, especially if you are a non-string player.
And finally, thank you to those of you who signed up for Teaching Strings Made Easy!  I can't wait to work with you this summer!  (Yes, registration is now open for the summer, so register now to secure your spot in the training that is going to accelerate your career, and save you MANY years of trial, error and struggle.)
All the best to everyone, and hope to meet again someday!  I need to go back and see more of your beautiful state!
Zion National Park
—
Have you joined Smart String Teacher yet?  Subscribe to be notified of new blog posts, books and courses!