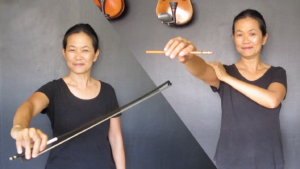 Teach bow hold exercises the smart way!

You probably already teach bow hold exercises when you teach beginners, but do you know how crucial bow hold exercises are to the foundation of your students' technique? I often find that teachers tend to teach bow hold exercises half-heartedly, not realizing the full potential they have to accelerate the success of their students.
For me, bow hold exercises hold all the keys to making bowing on the string a quick and easy transition and I take them very seriously. In fact, combined with my really simple and clear Smart Bow Hold and Left Hand Handouts, it only takes me two weeks to have an entire class bowing and fingering confidently.
How do I do it???  It's simple.
I follow these three key strategies:
The first is to start on a pencil and use these handouts so I can quickly and easily get my students established with a good bow hold – and left hand too! This saves me from wasting precious time trying to teach and correct a class full of hands.
Second, as I am teaching the bow hold exercises I deliberately bring my students' attention to how each movement relates directly to playing. This is an often neglected step, and this simple change can make a dramatic difference in your effectiveness!
And third, I continue using the terminology from the exercises to remind students of, and correct technique once they put the bow to the string.
Teach Bow Hold Exercises Smarter!
Following these steps is an easy way to establish really good bowing technique right from the start. And that is what my pedagogy is all about – finding simple ways for you to achieve more in less time!
Watch the videos below to see how I use my favourite bow hold exercises to prepare my students for successful bowing. Feel free to use the videos with your students, or just teach them the exercises yourself!
Don't forget to get your copy of Smart Bow Hold and Left Hand Handouts to help you teach bow hold and left hand faster and more successfully than you ever have in your career!  It will also come with a link to my second video, Smart Bow Hold Exercises for the bow.
Bow Hold Exercises on a Pencil
Link to share with students: https://youtu.be/6iwxDzWOq8Q
Bow Hold Exercises on the Bow
Link to share with students: https://youtu.be/ptK7jdHTLkE
Want to learn how to set up beginners for success in their first year?  Check out my course, Teaching Beginner Strings Made Easy.